Sunoptic Wireless LED Headlight SSL5500 with RCS Band allows surgeons to see bright white light without having to be tethered or connected to a remote light source.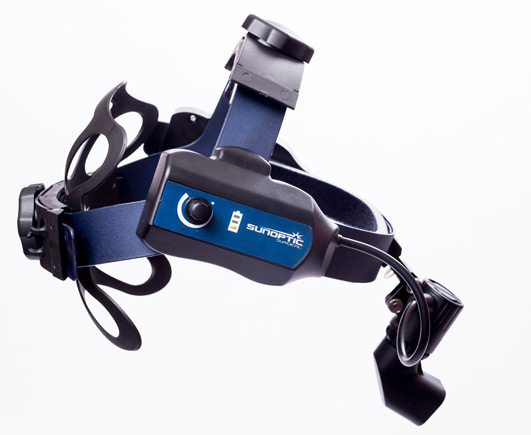 Experience the Freedom of the Cordless Surgical Headlight!
The Sunoptic Surgical SSL-5500 Wireless LED Light Headlight allows you to use your light source without being tethered to it or a battery pack. It provides bright, white light with a uniform spot. The RCS lightweight headband offers comfort and stability, and is available in either Gray or Blue.
LED lights are now extremely popular. They are found in many places today, including keychains and flashlights. These aren't just wireless LED lights. These lights are now preferred in the operating room and can be found on many medical and surgical devices, such as the medical headlights.
Our LED Cordless Surgical Headlight is More Energy Efficient
The heat produced by the traditional light bulb can cause most of the energy in the battery to be wasted. LED light bulbs, unlike the traditional ones, are cooler. They don't produce heat and also consume less energy than regular bulbs. LED medical headlights have larger power storage capacities than regular bulbs. Because even small batteries can hold enough power, you don't have to worry about buying heavy batteries. These batteries are also capable of surviving more extreme conditions without exploding or flaming.
For precision and accuracy, wireless LED medical headlights can be used. They are not only a great source for light but also have many other benefits.
Here are the Specifications for our SSL5500 Cordless Surgical Headlight
Features
No external wires or batteries
30,000 lux output at 16"/ 40cm distance with a bright, clean, uniform spot
20-110mm spot variability at 16"/ 40cm working distance
Infinitely variable output switch on side of headband allows surgeon to set different light outputs, which translates into longer battery life
4 hour battery life for fully charged battery at maximum output
Battery life doubles when used at 50% output (power)
New headband design distributes weight for maximum comfort
Accessible battery on the headband is quick and easy to change
Low-battery indicator clearly visible on side of headband
4-5 hour recharge time
Color temperature is 4,500° K
Color Rendering Index (CRI) 75
Classification: FDA Class 1 Device
Specifications
Variable Module Spot 20mm-110mm @16"/ 40cm
Side mounted variable intensity control: 0-30,000 Lux at 16"/ 40cm working distance
Rear Cranial Support Headband for added comfort
Headband with battery weight 15oz/ 437grams
Battery weight 3.7 oz/ 106g
Battery life 4 hours at full intensity and doubles at half output (power)
Battery Recharge Time – 4-5 hrs
Color Temperature 4,500K typ.
Color Rendition Index (CRI): 75
Typical LED life: >50,000 hours
Warranty Two (2) years on LED Headlight and one (1) year on Batteries
Classification: FDA Class 1 Device Listing D125713
System Includes
1 LED headlight with Rear Cranial Support "RCS" headband
Side mounted battery holster and attenuator
2 Rechargeable batteries
1 single bay charger
1 padded carrying bag with shoulder strap
Disposable Joysticks for positioning module
Ordering Information
SSL-5500-KIT LED headlight system includes charger and two batteries. Kit includes domestic and international adaptors.
SSL-1821J Replacement Sunoptic Battery for 5500
SSL-8121J-C LED 5500 battery charger
SL-0026B Black Module Hinge Extension
SSL-5500-B-KIT- LED Headlight system includes BLUE headband with charger, two batteries and carrying bag. Kit also includes domestic and international adaptors for the
Specialties
Call To Order Your Cordless Surgical Headlight Today: 877-677-2832