Request a Free Trial
Try them for yourself and see what a difference our products make!
Schedule now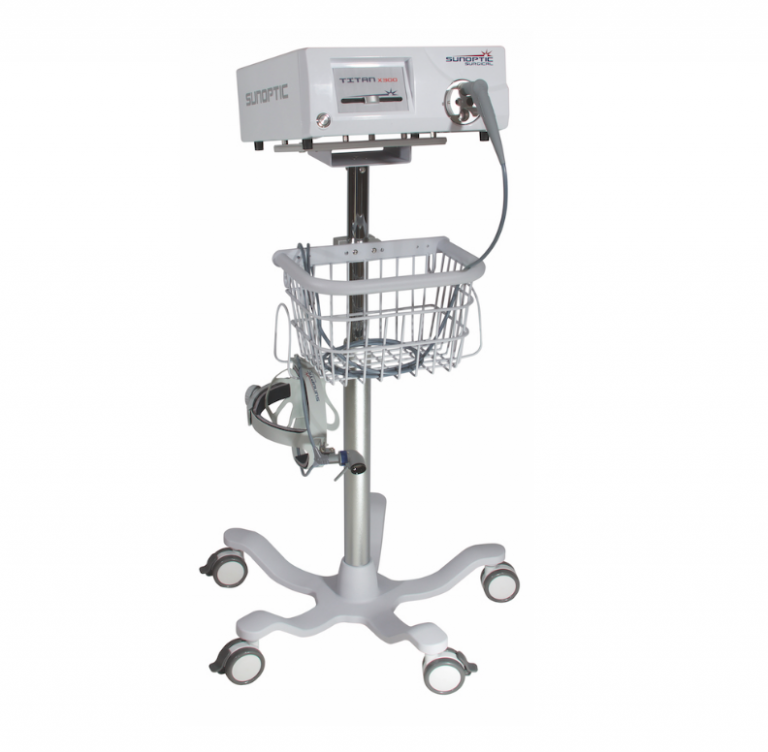 Sunoptic Surgical's TITAN X300 delivers 300 watts of  bright, brilliant, white light to the surgical site coupled with a whisper-quiet operation.  Call for a trial today!
The TITAN X300 Light Source has been designed as an
option for customers who need the highest quality of light
but not as much light intensity as the TITAN X400 light
source. This unit functions with the same great
performance and is similar in appearance and detail but
with less light intensity (225,000 Lux) of the X400 model.
Resources
Features
Consistent High Lux Output
1,000-hour lamp
Manual Intensity Slide
Advanced Air Flow
Automatic Shutter
Reliable
Whisper Quiet
Quality, Performance and Advanced Aesthetics
Specifications
Lamp Type Ceramic Type Xenon Lamp
Lamp Power Rating 300 Watts
Lamp Color Temperature 5,600K
Lamp Warranty 1000 Hours Prorated
Front Panel Controls On/Off Switch, Attenuator Control, Turret
Input Voltage Range 100 – 120 VAC 50 /60Hz, 220–240VAC 50Hz
Power Consumption 450 Watts
Regulatory UL60601, EN 60601-1, EN 60601-1-2, CAN/CSA, C22.2, No 601.1-M90, CE
Equipment Class BF-TYPE
Dimensions 338mm (13.3″) W x 155mm (6.1″) H x 457mm (18″) D
Weight 10.0 kg (22 lbs)
Ordering Information
TITANX300ST-K 300-Watt Xenon Lightsource, 4 Port Turret
SSL0070T Floorstand for TITAN Lightsources
SSX0300 Replacement Lamp Module for TITANX300
(For International use: Replace -K with required power cord plug.)
Specialties
Cardiothoracic
Cardiovascular
Oncology
Spine
Transplant