Request a Free Trial
Try them for yourself and see what a difference our products make!
Schedule now
Powerful Technology with an Intuitive Design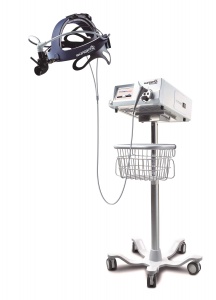 The Titan X400 is the newest 400-watt xenon light source added to the Sunoptic line. The X400 provides incredible illumination of the surgical procedure area by producing 325,000 Lux when used with a Sunoptic fiberoptic headlight at 16"/40cm distance. The pure white light, with a color temperature of 5,600° K, ensures an even distribution of the illumination along with accurate tissue color rendition. When paired with a xenon headlight, the Sunoptic X400 system provides the user with the ability to illuminate the deepest surgical sites. For this reason, the X400 system is ideal for Cardio-Thoracic, Oncology, Transplant, and Minimally Invasive Procedures. Utilizing our unique ellipsoidal lamp design, the X400 provides a more robust performance than traditional xenon systems and more high powered illumination for a longer period of time. The intuitive user interface makes the X400 a true "plug and play" system with easy light adjustment via the adjustable sliding bar. The adjustment is infinite so each surgeon can supply exactly the required amount of light to the surgical site.
• 325,000 Lux minimum when used with a Sunoptic Fiberoptic Headlight at 16in/40cm -standard working distance
• Smooth Sliding Bar for easy adjustment of light intensity level
• 1,000 hour prorated lamp warranty
• Dual Fan Cooling System digitally controlled for quiet operation
• Four Port Turret for compatibility with most fiber optic cable designs (Storz,Olympus, Wolf, ACMI)
• Automatic Shutter
• Lamp Reset Button on back panel
• Easy change Lamp Module; no tools required
Specifications
Lamp Type: Ceramic Type Xenon Lamp
Lamp Power Rating: 400 Watts
Lamp Color Temperature: 5,600K
Lamp Warranty: 1000 Hours Prorated
Front Panel Controls: On/Off Switch, Touch Screen Controls, Turret
Input Voltage Range: 100 – 120 VAC 50 /60Hz, 220–240VAC 50Hz
Power Consumption: 750 Watts
Regulatory: UL60601, EN 60601-1, EN 60601-1-2, CAN/CSA, C22.2, No 601.1-M90, CE
Equipment Class: BF-TYPE
Dimensions: 338mm (13.3″) W x 155mm (6.1″) H x 457mm (18″) D
Weight: 10.0 kg (22 lbs)
Ordering Information
TITANX400ST-K 400 Watt Xenon Light Source, 4 Port Turret
SSL0070T Floorstand for TITAN Light Sources
SSX0400 Replacement Lamp Module for TITANX400
For International use replace -K with required power cord plug
Specialties
Cardiothoracic
Cardiovascular
Oncology
Spine
Transplant