Discover Why So Many Hospitals & Surgeons Turn To Sunoptic Surgical When Buying Surgical Headlights!
We offer the best and brightest surgical headlights & medical grade lighting products on the market:
LED examination lights
Medical examination lamps
Sunoptic Surgical Headlights are brightest surgical lighting available
Xenon, LED, battery-operated, Xenon lamps, fiberoptic cables, video cameras, documentation & recording devices
Best battery-powered surgical headlights available
Also offer stabilized HD video camera with built-in light
Trusted by hospitals and medical practices across the country for surgical headlights and battery-powered surgical headlights
Equipment designed to provide medical lighting for a variety of medical professions & specialties, including:
Cardiac, spine, neurosurgery, endoscopic, ORL, general surgery, maxillofacial, oncology, pediatrics, plastics, transplant, dental.
Sunoptic Technologies:
American Designed, Made, & Tested Surgical Headlights for Sale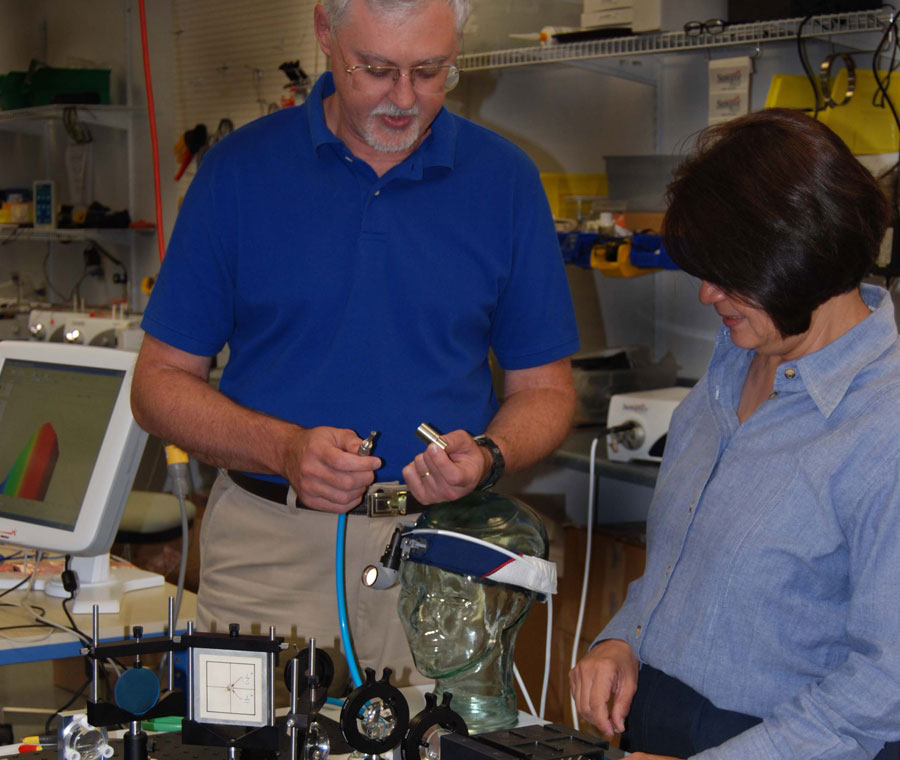 About Sunoptic Technologies
Sunoptic Technologies started in 2001 when the resources of CUDA Products was redirected to specialize exclusively in providing top-quality, reliable, surgical lighting, medical lighting, surgical cameras and video for surgical teams in a variety of different healthcare settings.
Find Out if Our Surgical Headlights are Perfect for You to Buy
Xeon Surgical Headlights for Sale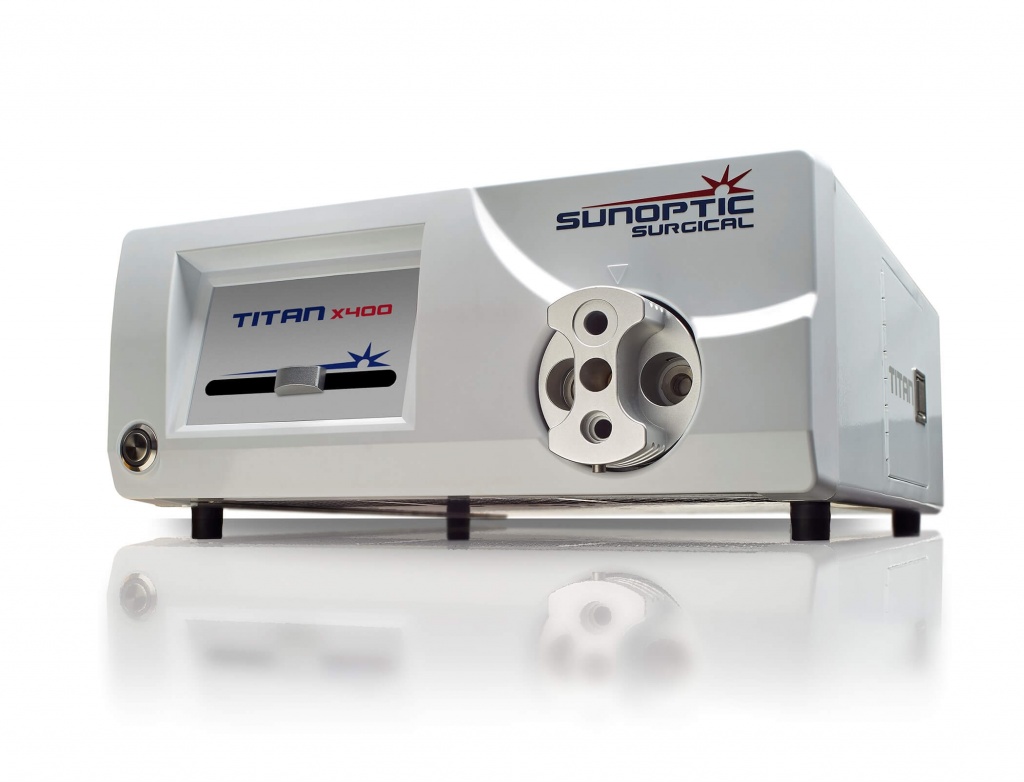 Purchase the Titan X400 Xeon Surgical Headlight Source
Introducing the titan X400, Sunoptic's latest and greatest 400-watt xenon surgical headlamp light source! Offering incredible illumination in the surgical workspace, the X400 provides a color temperature of 5,600° K and a lux of 325,000 when used with a 16"/40cm distanace fiberoptic headlight. With its pure white light, and even illumination, accurate tissue colour rendition is guaranteed. When paired with a xenon headlight, the Sunoptic X400 system has the power to reach even the deepest surgical sites, making it ideal for Cardio-Thoracic, Oncology, Transplant and Minimally Invasive Procedure work. With it's unique ellipsoidal lamp design, and more robust performance that traditional xenon systems, surgeons can also benefit from long lasting and high powered illumination. What's more, the X400 is incredibly easy to use with its intuitive user interface and an adjustable sliding bar allowing infinite light adjustment. The Sunoptic X400 is the perfect "plug-and-play" system for those who demand the best in surgical illumination.
Purchase the Titan X300 Xeon Surgical Headlight Source
Sunoptic Surgical offers only the best in surgical personalized care with the TITAN X300. This premier surgical headlight source illuminates an unsurpassed 300 watts of brilliant white light and works with an impressive whisper-quiet operation. Try this remarkable illumination today and experience the difference! Give us a call to get started.The TITAN X300 Light Source offers an exciting solution to those who need superior illumination with a more manageable power output. Exhibiting the same impressive performance and exacting detail as its X400 predecessor, the X300 model outputs 225,000 Lux of light intensity, perfect for more sensitive applications. Sleek and stylish in design, the X300 Light Source makes an ideal choice for the discerning customer.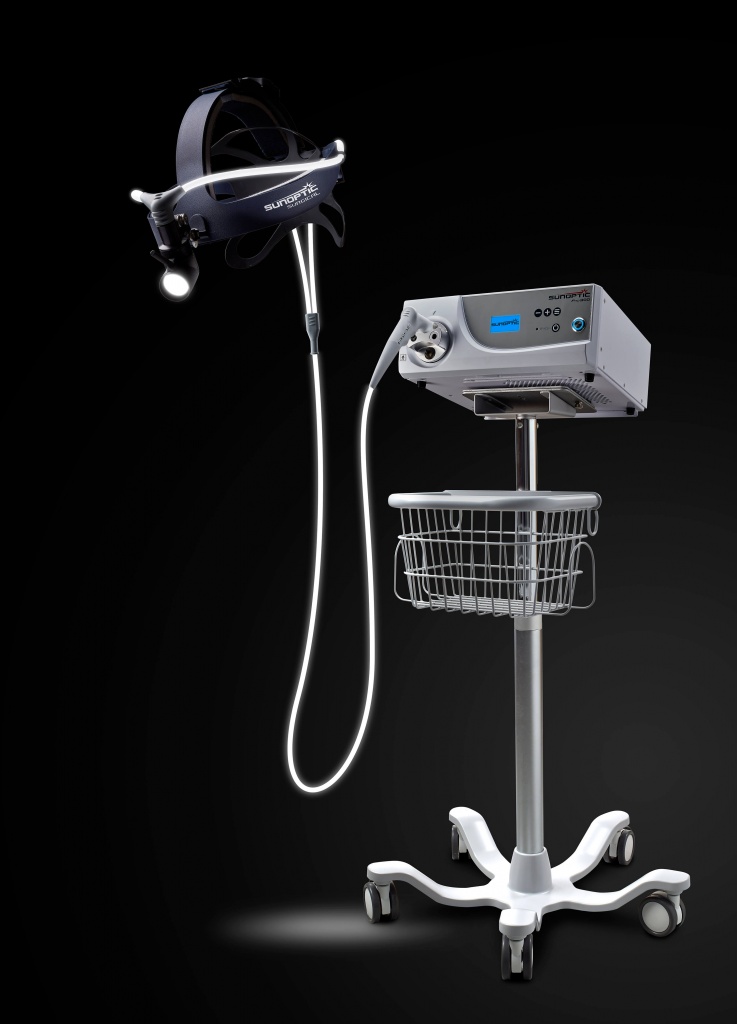 Purchase the Pro 300 Xeon Surgical Headlight Source
Introducing the PRO300 Xenon Light Source – Sunoptic Surgical's most advanced light source to date! This state-of-the-art device raises the bar for reliable, efficient and cost-effective illumination while performing surgeries. Featuring revolutionary new developments in xenon lamp technology, the PRO300 delivers superior performance with unparalleled illumination of the surgical site. Boasting a CRI of 97+, the PRO300 provides a uniform white light which results in true tissue color representation even in dark areas of the body. The optical train is also newly improved to guarantee maximum light delivery via the fiberoptic cable. Additionally, the lamp design is improved for maximum durability for up to 1,000 hours. With all these features, the PRO300 is the premier choice for surgical illumination with improved efficiency, greater reliability and a lower overall cost of ownership.
Why Buy a Xeon Surgical Headlight from Sunoptic Surgical?
Our engineers, product developers and test teams are the best and brightest in the industry. They're committed to manufacturing the highest quality systems and replacement parts to keep medical professionals on the cutting-edge.
We're proud to provide the industry with luminaires that ensure an illuminated surgical site with maximum visibility. Our reputation for providing excellent quality products speaks for itself. We're here to make your operations more efficient and help bring the best possible outcomes for your patients.
LED Surgical Headlamps For Sale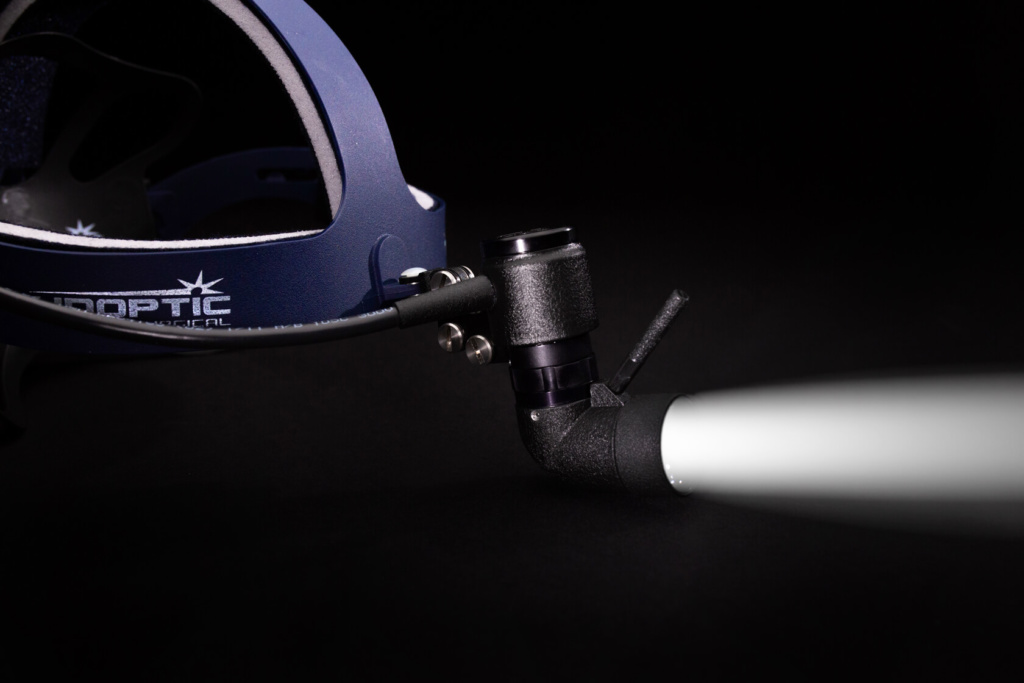 Purchase the LX2 Portable LED Surgical Headlight System
The Sunoptic LX2 is a revolutionary solution in portable LED surgical headlight systems, providing the perfect blend of power and mobility. This highly advanced light module offers unparalleled durability, and with the included state-of-the-art, energy-efficient batteries, an extended run time of up to 6 and a half hours at full output is guaranteed. With its untethered, cordless design, the user has a full range of unrestricted movement during surgical operations. The Sunoptic LX2 is the ideal choice for medical professionals seeking for a reliable and powerful headlight solution.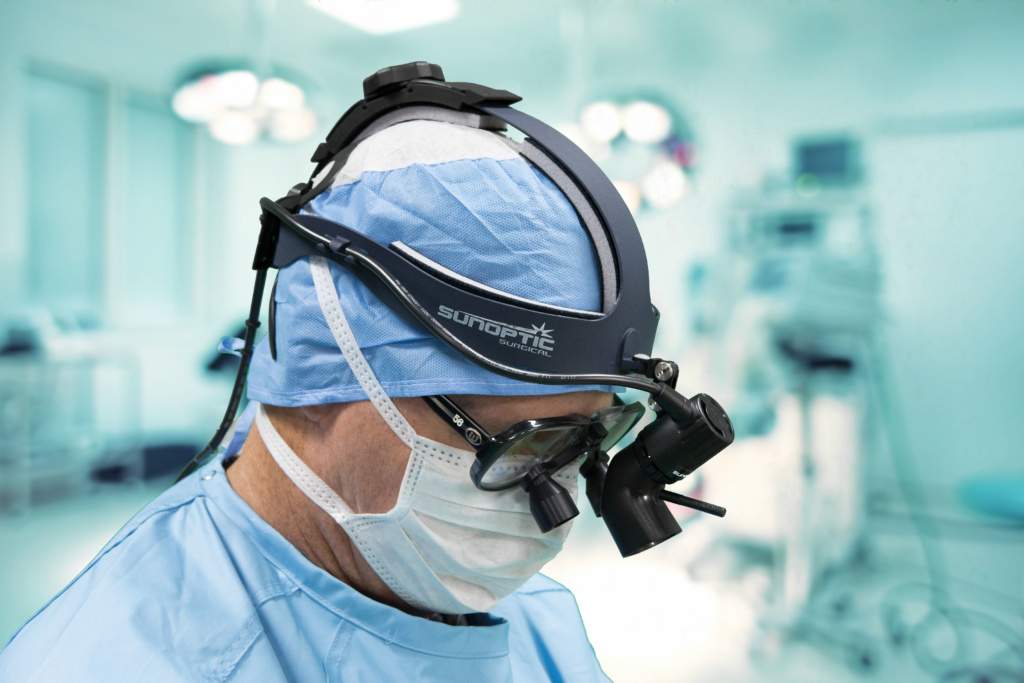 Purchase the SSL-9500 Portable LED Surgical Headlight
The SSL-9500 LED Headlight System provides the performance, accuracy and stability you need in any operating room. Maximize your precision and enhance your accuracy with the Sunoptic SSL-9500 Portable LED Surgical Headlight System. Experience better mobility and accuracy in the operating room with the Sunoptic SSL-9500 Portable LED Surgical Headlight! This sleek device generates 70,000 lux of crisp and clean white light, eliminating the need for irritating and distracting brown, yellow or blue halos or hot centers and dark edges. The lightweight headband and battery-operated clip holster make this headlight system comfortable and portable, allowing you to move around the surgical table with ease and confidence. By using the Sunoptic SSL-9500 Portable LED Surgical Headlight, you can rest assured knowing your precision and accuracy will be at the highest level. Enhance your performance and have complete control in any OR with the SSL-9500 LED Headlight System.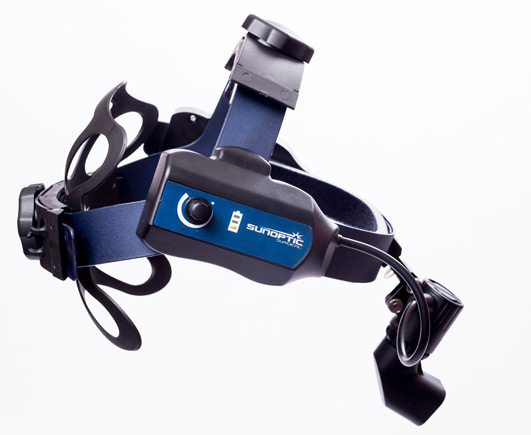 Purchase the SSL 5500 Wireless LED Surgical Headlight
Experience the freedom of Sunoptic Surgical's revolutionary Wireless LED Headlight. The SSL-5500 with RCS Headband allows surgeons a comfortable and secure fit while providing a bright, homogeneous light spot in a white hue – free from the hindrance of a light source or remote battery pack. Offering an efficient and advanced lighting solution, this cutting-edge technology gives surgeons unparalleled flexibility in the operating room.
Why Purchase an LED Surgical Headlight from Sunoptic Surgical?
When Joseph Cuda established CUDA Products®, LLC in 1978, he had no way of knowing that the ambitious venture he had spearheaded would grow, develop and eventually become the leading name in medical headlight systems: Sunoptic Technologies®.
The seeds of potential were sown when Cuda, who had embraced the potential of fiberoptic technology to create novelty items, turned his attention to producing medical products. By 1999, Cuda Products was on a sound footing and was purchased by entrepreneur Chris Black.
Savvy investments in professional management staff, state-of-the-art manufacturing processes and expanded engineering development teams, coupled with the successful certification process of ISO 9001 and ISO 13485, set the stage for a bold and exciting future for the newly renamed Sunoptic Technologies®. Since 2001, our innovative technologies and medical headlight systems have been at the cutting-edge of the industry, propelling us to the forefront of the market.
Fiberoptic Surgical Headlights for Sale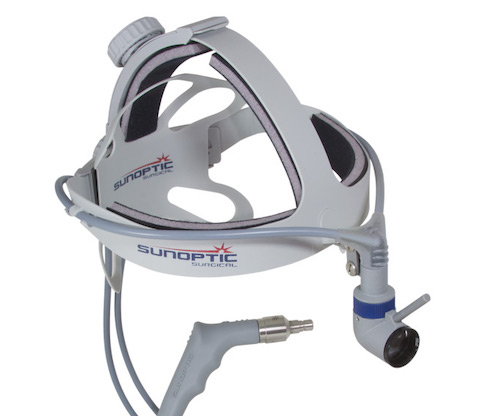 Purchase the Titan RCS Surgical Headlight for Xeon Lights
Sunoptic Surgical's TITAN RCS Headlight gives surgeons the confidence they need thanks to our advanced Rear Cranial Support design. Crafted with a light but resilient material, our headband delivers superior stability and minimizes the dreaded fatigue caused by long surgical procedures. The sophisticated homogeneous spot module and premium fused fiberoptic cables, both medical grade, complete this one of a kind headband, creating a titanium system with unrivaled performance and dependability that can surpass any other. Schedule your no-obligation trial to experience for yourself the power and comfort of our TITAN RCS Headlight!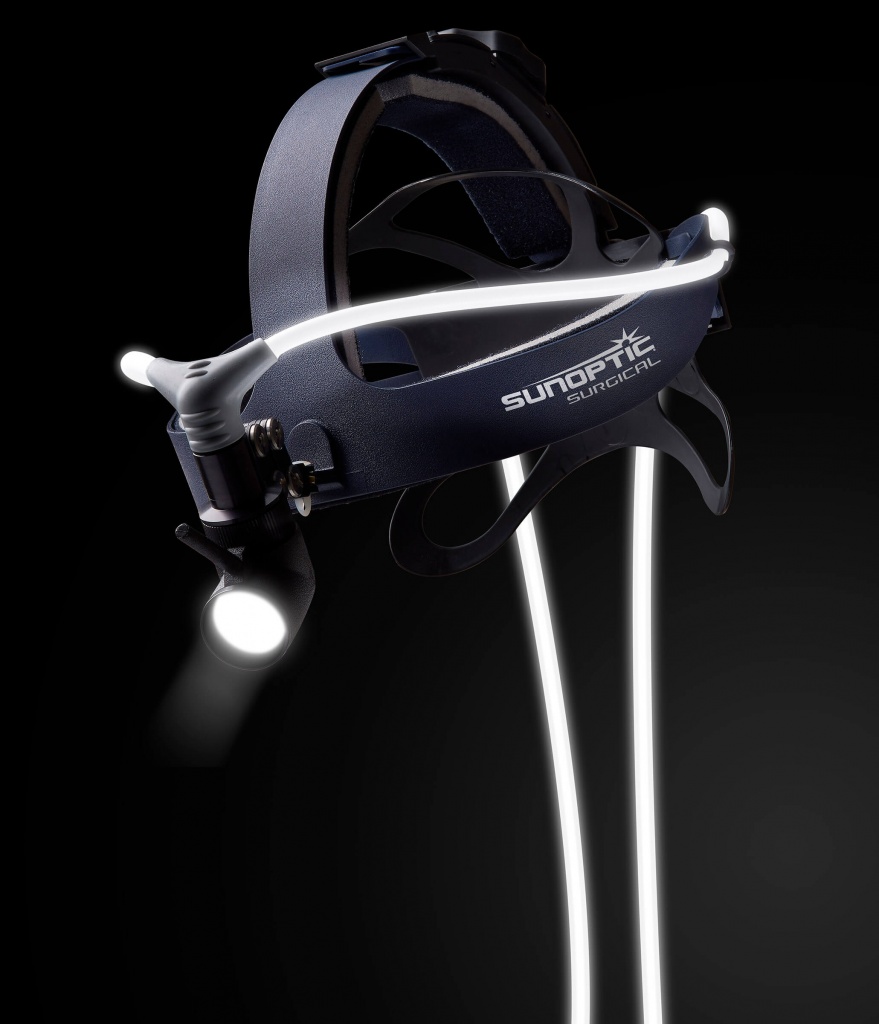 Purchase the Titan RCS Surgical Headlight for LED Lights
At Sunoptic Surgical, we understand what matters most to surgeons during lengthy, complex procedures – comfort and accuracy. That's why our TITAN RCS LED Surgical Headlight promises the utmost in precision and support. Featuring a rear cranial support design for superior stability, this headlight system is made to minimize fatigue. Furthermore, the use of homogeneous spot module and premium fused fiberoptic cable create a well-rounded product. As for comfort, a lightweight and flexible material is used as well as an advanced front to back crown support design, allowing for improved adjustment and stabilization. And, of course, the LED fiberoptic headlight cables used are made with medical-grade materials and are tested to guarantee reliability while showing off peak brightness. Here at Sunoptic Surgical, we want to ensure that no matter how long the procedure lasts, the TITAN RCS LED Surgical Headlight will keep performing to the highest standard.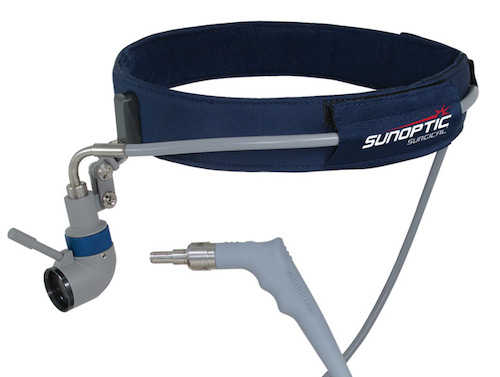 Purchase UltraGrip SPORT Surgical Headlight System
With an adjustable headband and precision pneumatic control system, it offers maximum customization and adjustable comfort that meets the various needs of surgeons. The slimline design with lightweight construction and durable materials ensure lasting performance. The system features dual color technology and provides a wide field of illumination that allows surgeons to perform their procedures with confidence. With its patented cooling system, it ensures an uninterrupted and cooler light throughout the surgery. This advanced headlight system is designed to be a true partner in the operating room.
Where To Find the Best & Brightest Surgical Headlights for Sale?
For over four decades, Sunoptic Surgical has been part of a global community that values and respects its high-performance, well-designed surgical technology. From our facility located in the bustling city of Jacksonville, Florida, we design, test, manufacture, and ship the highest quality of medical and dental equipment, including light sources, wireless headlights, camera systems, xenon lamps, and fiberoptic cables and components. We strive to remain at the forefront of innovation by focusing on continuous process improvement, customer satisfaction, and delivering state-of-the-art solutions to customers in the medical and dental industries around the world. At Sunoptic Surgical, we are passionate about providing our customers with the best possible lighting products and solutions to enhance existing or create new medical and dental practices.
People Also Search
Surgical headlights
Buy surgical headlights
Surgical headlight prices
Best surgical headlights
LED surgical headlights
Surgical headlamp
Surgical head lights
Rechargeable surgical headlights
Surgical headbands with lights
Portable surgical headlights
Cheap surgical headlights
Surgical lights
Surgical headlight systems
Intraoral surgical headlights
Surgical loupes and headlights
Surgical headlights with magnifiers
Operating theatre surgical headlights
Wall mounted surgical headlights
Wireless surgical headlights
Advanced surgical headlights
Brightest surgical headlights
Battery operated surgical headlights
Top surgical headlights
Surgical lights and magnifiers
Veterinary surgical headlights
Adjustable surgical headlights
Surgical loupes with head lights
Affordable surgical headlights
Professional surgical headlights
High intensity surgical headlights
Multi-colored surgical headlights
AV dental surgical headlights
Various surgical headlights
Cool LED surgical headlights
Where to buy surgical headlights
Dental surgical headlights
Dimmable surgical headlights
Illuminated surgical headlights
Long-lasting surgical headlights
Magnetic surgical headlights
Multi-purpose surgical headlights
Intuitive surgical headlights
Small surgical headlights
Efficient surgical headlights
Wireless and rechargeable surgical headlights
OEM surgical headlights
Ergonomic surgical headlights
Multi-headed surgical headlights
Quality surgical headlights
Durable surgical headlights
For over four decades, Sunoptic Surgical has been providing innovative solutions to the medical and dental industry. Our products are trusted and respected globally, and we specialize in developing high end, high value surgical light sources, portable and wireless headlights, high definition camera systems, xenon lamps, fiberoptic cables and components. Our headquarters, located in Jacksonville, Florida, is home to our own manufacturing facility where all of our products are designed, tested, manufactured, and shipped with 100% customer satisfaction in mind. We have made it our mission to provide our clients with solutions to their light delivery and illumination needs, both in the U.S. and abroad.
Our company is proud to offer a wide range of high-quality medical headlights and headlamps for surgical and dental procedures. All of our products are made in the US, and none of our vendors are not verified manufacturers and factories with verified business licenses, ensuring that you receive only the best quality products.
Our website features a virtual tour view of our products, allowing you to see them up close and in detail before making a purchase. We also offer inspection services view, so you can rest assured that your product will meet all necessary safety standards.
Our medical headlights and headlamps are designed for use in operating rooms and examination rooms, providing high performance and reliable light output. We work with top headlight suppliers to ensure that our products meet the highest standards of quality and durability.
Our medical headlights and headlamps come in a range of color temperatures, including lxcolor temperature, to provide the perfect lighting for any procedure. They also have long battery life, ensuring that they will last through even the longest surgeries.
Whether you are a plastic surgeon, dentist, or other medical professional, our medical headlamps are the perfect choice for your needs. Browse our selection today to find the perfect product for your practice.