Illuminate the operating room with the brightest medical headlights & best camera system for surgical oncology.
From Wikipedia:
Surgical oncology is the branch of surgery applied to oncology; it focuses on the surgical management of tumors, especially cancerous tumors.
As one of several modalities in the management of cancer, the specialty of surgical oncology has evolved in steps similar to medical oncology (pharmacotherapy for cancer), which grew out of hematology, and radiation oncology, which grew out of radiology. The Ewing Society known today as the Society of Surgical Oncology was started by surgeons interested in promoting the field of oncology. Complex General Surgical Oncology was ratified by a specialty Board certification in 2011 from the American Board of Surgery. The proliferation of cancer centers will continue to popularize the field, as will developments in minimally invasive techniques, palliative surgery, and neo-adjuvant treatments.
HDC300 Surgical Headlight & Camera System for Surgical Oncology (Cancer Surgeons)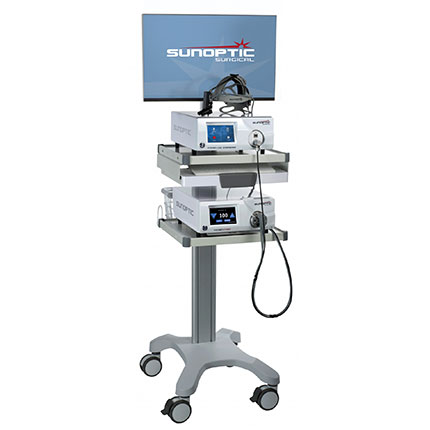 Some of the world's best engineers have created a revolutionary tool for every surgical team: A truly coaxial surgical headlight cam featuring a patented combination camera/light module.
Team collaboration is easier when the surgeon's view is shown on screen. This helps ensure that procedures are successful. Surgical footage can be seamlessly shared with colleagues, at symposiums and conferences, and for training and education.
This robust, one-of-a kind system comes with an image stabilizer built in. This reduces the impact of surgeon heads moving and creates a view that is more comfortable for staff as well as audiences.
Sunoptic HDC300 HD headlight & Surgical Camera system provides outstanding videos and stills that are of unmatched quality. It allows surgeons to view the surgical site from a unique perspective. Schedule a trial of this revolutionary system for your entire surgical team. It is free and without obligation.
Sunoptic LX2+ Wireless HD Surgical Oncology Headlight Camera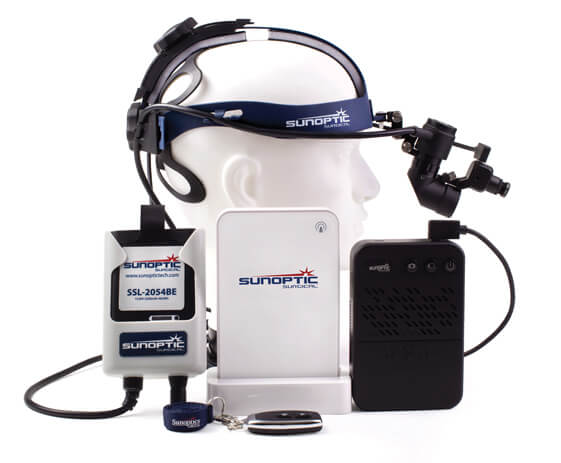 The Sunoptic LX2+ helps you see clearly for your entire team.
This convertible system makes it easy to remove the camera for headlight-only purposes, cleaning, or to use with Sunoptic Surgical headlights. The high-quality camera is able to provide a clear and crisp image of the surgical area for the entire team in the operating room. This can be used for many purposes, including patient records improvement, refining techniques and documenting revisions.
Wireless transmission between the receiver and the recording unit/battery box eliminates cables from the operating room. This allows for more freedom of movement around the patient table. Remote programming devices or the buttons on the battery pack/recording device allow for still and video captures. The recording and images are saved to a 128G SD memory card and can be easily exported to a computer by using a USB cable to mini-USB.
TITAN X400 Light Source for Surgical Oncology
Powerful Technology with an Intuitive Design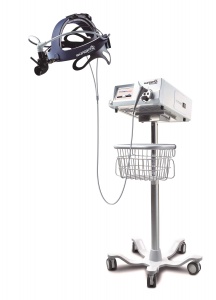 A combination of powerful technology and intuitive design
The latest 400-watt xenon lightsource added to the Sunoptic lines is the Titan X400. The X400 is capable of producing 325,000 Lux, which provides amazing illumination of the surgical area. It can be used in conjunction with a Sunoptic fiberoptic light source at 16″/40cm. Pure white light at 5,600degK ensures uniform illumination and accurate rendition of tissue colors.
Sunoptic X400 can illuminate the most challenging surgical sites when used with a xenon-powered headlight. The X400 system can be used for Cardio-Thoracic surgery, Oncology, Transplant and Minimally Invasive Procedures. Our unique ellipsoidal lamps design ensures that the X400 has a better performance than traditional xenon systems. It also provides more intense illumination for a longer time. The X400's intuitive user interface makes it a "plug-and-play" system. With the adjustable sliding bar, you can adjust the light intensity. This adjustment can be adjusted infinitely so that each surgeon can provide exactly the right amount of light to his or her surgical site.
• 325,000 Lux minimum when used with a Sunoptic Fiberoptic Headlight at 16in/40cm -standard working distance
• Smooth Sliding Bar for easy adjustment of light intensity level
• 1,000 hour prorated lamp warranty
• Dual Fan Cooling System digitally controlled for quiet operation
• Four Port Turret for compatibility with most fiber optic cable designs (Storz,Olympus, Wolf, ACMI)
• Automatic Shutter
• Lamp Reset Button on back panel
• Easy change Lamp Module; no tools required