The Sunoptic Difference: Medical Headlights That Are Lighting the Way in the Medical Industry
A Brief History of the Medical Headlight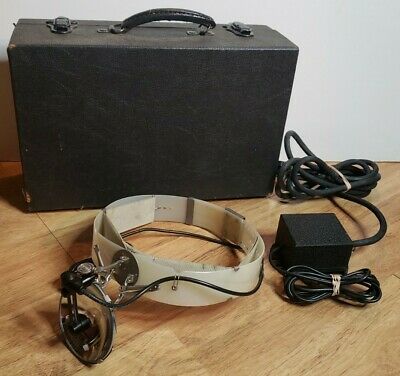 The earliest operating rooms used to favor southeast exposures and, when possible, had ceiling windows to benefit from sunlight, which was the only available light source, and a veritable challenge for surgeons even on a sunny day.

By the end of the 19th century, light bulbs replaced direct sunlight and gave surgeons the freedom to perform surgery any time of day.

Halogen bulbs appeared in the 1960s and these increased the amount of light available on the operating table to 100,000 lx compared to its 19th-century predecessor.
The LED Medical Headlight Revolutionizes Medical Lighting
Three decades later, discharge lamps practically doubled the available light to 200,000 lx. However, more is not always better. In fact, the increase in the amount of light being used, in operating rooms, led to eye fatigue and decreased surgeons' effectiveness.
We've come a long way since the invention of the electric lightbulb.
Today, more and more surgical lights operate with LEDs. These bulbs use less energy and produce crisper, cooler illumination, however, not all LEDs are created equally.
Sunoptic Surgical is the Industry Leader in LED Medical Headlights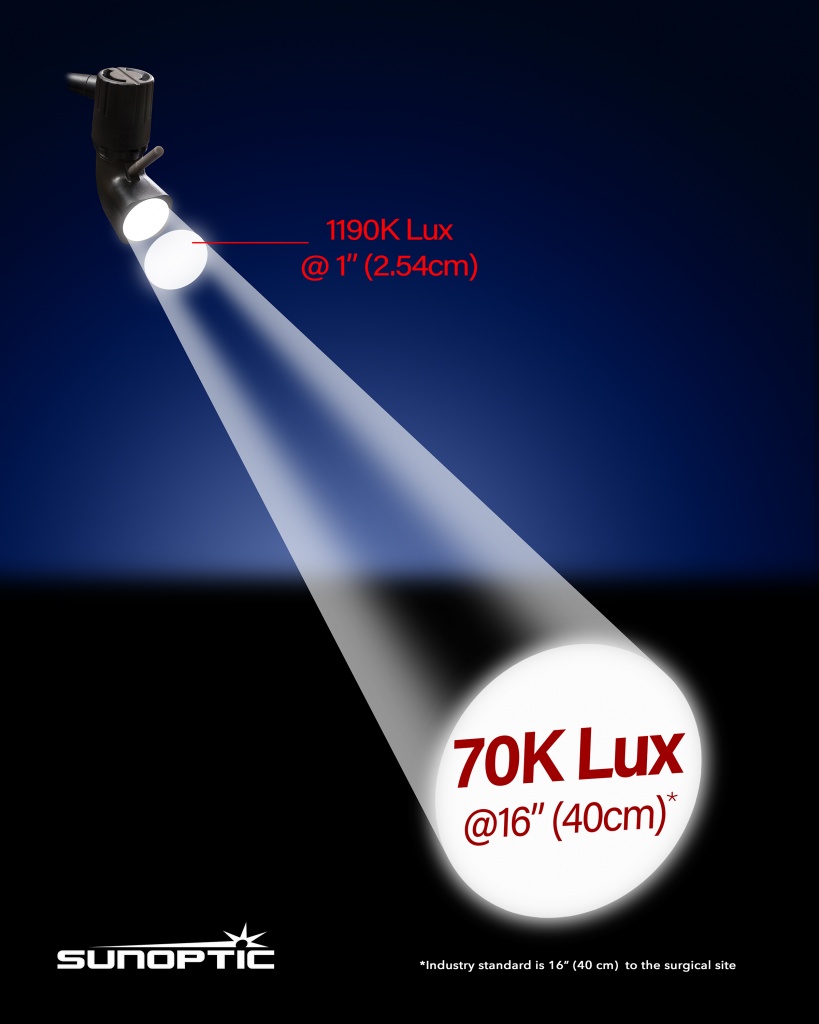 At Sunoptic we produce superior high-end LEDs that give surgeons the level and quality of visibility essential to making effective diagnostic decisions.
Sunoptic's world-class Engineers, Product Developers, and Research Team have been designing, testing, and manufacturing the highest quality surgical lighting systems and replacement parts for more than four decades.
If you're looking for the highest quality, brightest LED Medical Headlight, you've come to the right place. Trusted and respected globally, Sunoptic Surgical designs and manufactures surgical light sources, headlights, replacement parts, and components for the medical, surgical, and dental industries in the USA.
At Sunoptic we provide illumination solutions to surgeons worldwide. We are recognized as the leading provider of surgical headlights. We are committed to researching new and innovative ways to deliver illumination to the surgical site. Our prompt responsiveness to customer feedback and input sets us apart from the competition.
We Deliver the world's only 400-watt xenon headlight system for the most demanding surgical cases, and we're ISO 13485 certified.
The Gold Standard in LED Portable Medical Headlights: The Titan LX2!
Surgeons depend on our high-quality, high-end products for precision, flexibility, and ease of use.
Meet the Titan LX2: The latest generation of high-end battery-operated LED medical headlights. A portable system featuring an efficient and modern light module design, made from robust aluminum, providing optimum durability during transport and handling.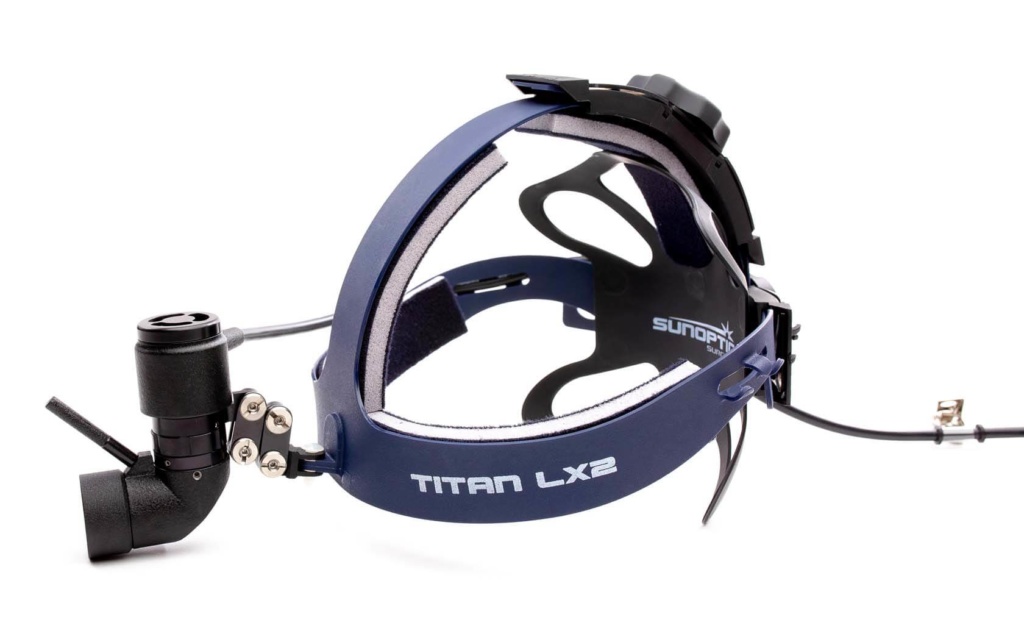 The Titan LX2 provides a deeper range of light for complicated surgical procedures.
More efficient than ever this whisper-quiet, feather-light unit with a cooler fan ensures cool operation with minimal light spot vibration.
Outstanding performance with a defined, uniform white light, which is homogeneous and renders truer tissue color and no annoying yellow/brown or blue outer edge of unusable light.
Reliability is at the core of our designs. This generation of higher-powered batteries generates less heat and has an easily attached holster with a metal clip, and an audible warning to alert when the battery is low on power.
70,000 Lux at 40 cm/ 16 Inch working distance
Large, variable spot size ranging from 20mm-110mm
More efficient with a modern, feather-weight aluminum design
More robust for increased durability for transport and handling
The new Sunoptic LX2 battery-operated LED headlight provides unparalleled light output and spot quality while allowing surgeons free mobility in the Operating Room.
TITAN X450 Light Source for Surgeons: The Brightest Surgical & Medical Headlamp On the Market Today!
The Titan X450 surgical light source produces 400 watts of the brightest, whitest homogeneous light. This premium top-of-the-line surgical light source generates more light than any other light source on the market.
Touch screen controls allow for ease of use, and features like a dual-fan cooling system and automatic standby mode create long-lasting performance and product life. Selectable foreign language programming ensures ease of use worldwide.
Medical Headlight with Integrated Camera: The Titan HDC-300
Our Sunoptic Surgical HD Headlight with an Integrated Camera is a departure from classic designs. You'll appreciate this lightweight, comfortable, ergonomic, headlight/camera module with a revolutionary technique for coaxial alignment, zooming options, and a revolutionary camera panning technology.
This new form of camera/light alignment means that the camera is fixed and locked on the center of the light spot at all times while providing a crisp image with true color representation.
The system includes a built-in image stabilizer that works in real-time
Reduces the impact of surgeon head movement
Results in an image that is more comfortable for staff and audience to view
Used together they provide videos and still images that are unparalleled in presenting a surgeon's point of view of the surgical site
Cutting Edge Surgical Camera Systems
Sunoptic HD Headlight & Surgical Camera Systems provide unrivaled camera/light alignment that allows the camera to always be fixed on the center of the light spot while providing a crisp image with true color representation on the viewing monitor.
The built-in image stabilizers work in real-time, to help reduce the impact of surgeon head movement and result in an image that is more comfortable for staff and audience to view.
When used together they provide videos and still images that are unparalleled in presenting a surgeon's point-of-view of the surgical site.
The Benefits of an Ergonomically Designed Medical Headlight
With more than 40 years of experience, we know what physicians need to perform at their peak. All products are designed with the comfort and performance of surgeons and physicians in mind.
Sunoptic is an internationally recognized brand, devoted to continuous innovation and improvement.
Our high-quality products and competitive prices have earned us the privilege of being an approved vendor in the prestigious HealthTrust and Premier Group purchasing organizations for hospitals around the country.
All of our products go through an extensive quality assurance protocol to ensure they meet our high standards and the needs of our customers.
Our light sources are outshining the competition and illuminating surgical cases across the globe.
At Sunoptic we're dedicated to providing solutions to our customer's light delivery and illumination needs worldwide. We are located in Jacksonville, Florida, where our headquarters has its own manufacturing facility.