The quality of the headlight and camera is vitally important to spinal surgery. That's why spinal surgeons from all over the world turn to SunOptic Surgical for the best surgical camera and brightest headlight available on the market today.
From Wikipedia:
Spinal fusion, also called spondylodesis or spondylosyndesis, is a neurosurgical or orthopedic surgical technique that joins two or more vertebrae. This procedure can be performed at any level in the spine (cervical, thoracic, or lumbar) and prevents any movement between the fused vertebrae. There are many types of spinal fusion and each technique involves using bone grafting—either from the patient (autograft), donor (allograft), or artificial bone substitutes—to help the bones heal together.[1] Additional hardware (screws, plates, or cages) is often used to hold the bones in place while the graft fuses the two vertebrae together. The placement of hardware can be guided by fluoroscopy, navigation systems, or robotics.

Spinal fusion is most commonly performed to relieve the pain and pressure from mechanical pain of the vertebrae or on the spinal cord that results when a disc (cartilage between two vertebrae) wears out (degenerative disc disease).[2] Other common pathological conditions that are treated by spinal fusion include spinal stenosis, spondylolisthesis, spondylosis, spinal fractures, scoliosis, and kyphosis.[2]

Spinal Surgery
HDC300 Surgical Headlight & Camera System for Spinal Surgeons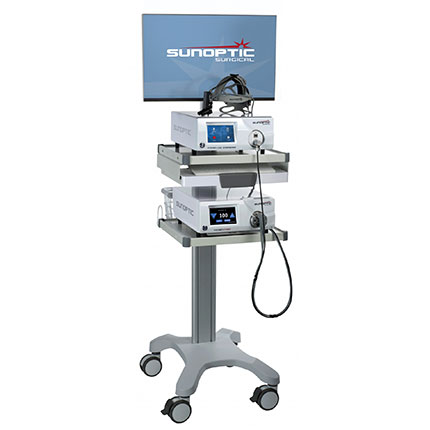 A truly coaxial surgical camera with a combined light module and camera has been developed by our world-class engineers.
Teams can collaborate more easily and have a better chance of achieving success by having the surgeon's point of view on screen. You can share surgical footage seamlessly with your colleagues at conferences, symposiums, as well as for education and training purposes.
This unique, robust system features an integrated image stabilizer. It works in real time, reducing the impact of surgeon head movements and creating a more comfortable image for both staff and viewers.
Sunoptic HDC300 HD Headlight & Surgical Camera Systems provides stunning videos and still images that are unsurpassed in quality when presenting a surgeon's unique view of the surgical site. Get a free trial to see the impact this revolutionary system can have on your surgical team.
Sunoptic LX2+ Wireless HD Spinal Surgery Headlight Camera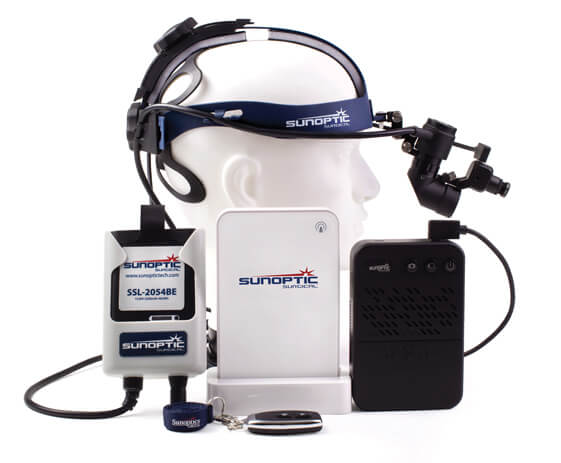 The Sunoptic LX2+ illuminates your procedure better than ever and captures a clear, precise view for the entire team.
The convertible system allows for easy removal of the camera for cleaning, headlight-only, or for use with other Sunoptic Surgical Headlights. This high-quality camera gives the operating room staff a clear, crisp image of the surgical site. It can also be used to improve patient records, refine techniques, document revisions, or for teaching purposes.
The wireless transmission of the recording unit/battery packs to the receiver eliminates the need for additional cables and allows the user to move more freely around the patient's table. You can capture videos and still images by using a remote programming device, or pressing the appropriate buttons on your battery pack/recording unit. Pictures and recordings can be saved to an SD card of 128G internal to the record unit. They can also be exported to a computer using a USB-to-mini-USB cable.
The SSL-9500 LED Spinal Surgery Headlight System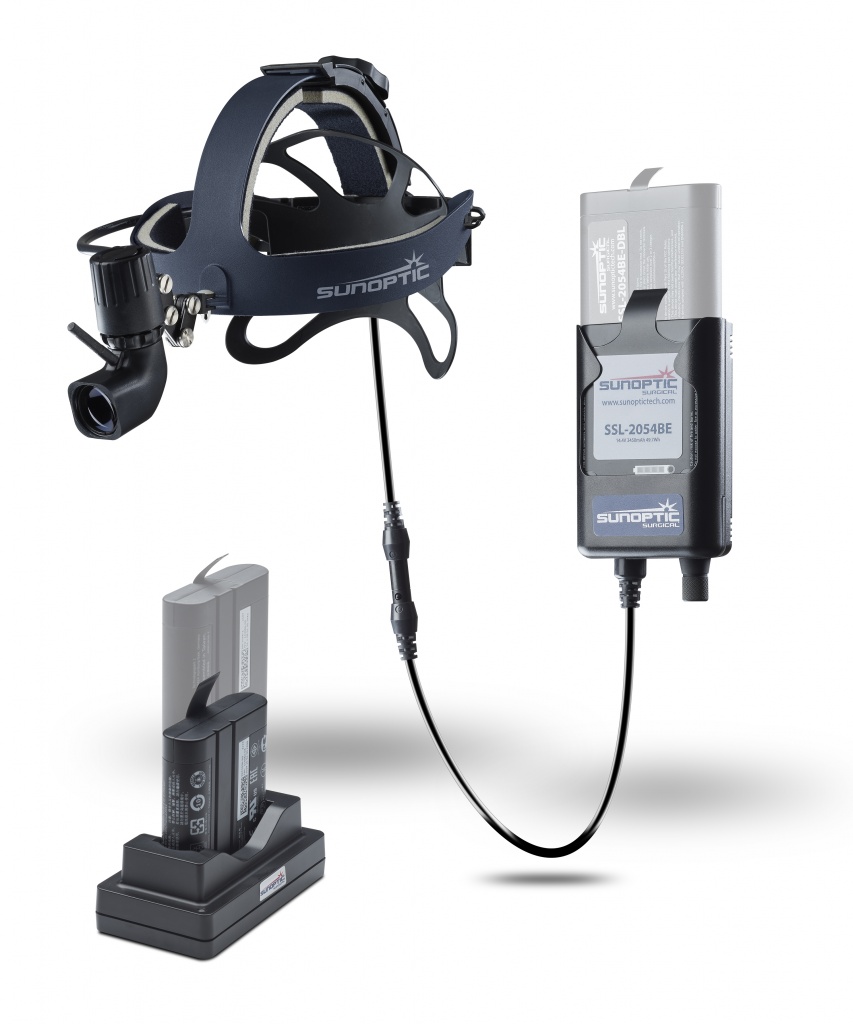 The SSL-9500 LED headlight system will maximize your mobility in the OR. The compact, lightweight device produces 70,000 lux of white light from a uniform, crisp spot. You won't be distracted by dark edges, hot centers or yellow halos. You will enjoy all the benefits of a traditional surgical light but with more mobility around the table.
Sunoptic LX2 LED Headlights: Preferred by Spinal Surgeons
Sunoptic LX2 LED headlights are the most recent generation of high-end, battery-operated LED lights. The lightweight system is made of aluminum and features a modern light module design that provides maximum durability for transport and handling. The battery is more efficient and has a lower voltage, which gives it a 3 hour continuous run time at full output. The run time at full output can be doubled by using our extended-life batteries. This brings the total to 6 hours. Sunoptic LX2 LED headlight is battery-operated and provides exceptional light output and spot quality, while also allowing for easy mobility within the Operating Room.
TITAN X400 Light Source
Powerful Technology with an Intuitive Design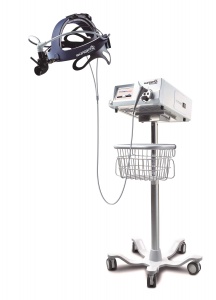 The Titan X400 is the newest 400-watt xenon light source added to the Sunoptic line. The X400 provides incredible illumination of the surgical procedure area by producing 325,000 Lux when used with a Sunoptic fiberoptic headlight at 16"/40cm distance. The pure white light, with a color temperature of 5,600° K, ensures an even distribution of the illumination along with accurate tissue color rendition. When paired with a xenon headlight, the Sunoptic X400 system provides the user with the ability to illuminate the deepest surgical sites. For this reason, the X400 system is ideal for Cardio-Thoracic, Oncology, Transplant, and Minimally Invasive Procedures. Utilizing our unique ellipsoidal lamp design, the X400 provides a more robust performance than traditional xenon systems and more high powered illumination for a longer period of time. The intuitive user interface makes the X400 a true "plug and play" system with easy light adjustment via the adjustable sliding bar. The adjustment is infinite so each surgeon can supply exactly the required amount of light to the surgical site.
• 325,000 Lux minimum when used with a Sunoptic Fiberoptic Headlight at 16in/40cm -standard working distance
• Smooth Sliding Bar for easy adjustment of light intensity level
• 1,000 hour prorated lamp warranty
• Dual Fan Cooling System digitally controlled for quiet operation
• Four Port Turret for compatibility with most fiber optic cable designs (Storz,Olympus, Wolf, ACMI)
• Automatic Shutter
• Lamp Reset Button on back panel
• Easy change Lamp Module; no tools required